Secure and trusted checkout with:

Military watches are pretty easy to spot instantly. Unlike fragile and normal smartwatches, they're designed to take you to the next level, giving you much more use from your wristwatch than you'd normally get.
They're pretty good looking and once you upgrade, you'll never want to go back. If you're not just looking for an accessory to give you accurate time, Tactical Watch is the perfect watch for you!
The advantages of using Tactical Watch:
Lightweight - Easy to carry unit
Style:

Sport

Type:

On Wrist

Function:

Noctilucent, Passometer, World Time, Alarm Clock, Chronograph, GMT Two Places, Remote Control, Month, Message Reminder, Week, Call Reminder

Movement Type:

Electronic

GPS:

No

CPU Model:

Other

Case Material:

Alloy

Band Material:

TPU

Band Detachable:

Yes

Mechanism:

Yes

SIM Card Available:

No

Battery Detachable:

Yes

Battery Capacity:

>450mAh

Rear Camera:

None

Screen Size:

1.24inch

Screen Shape:

Round

ROM:

<128MB

RAM:

<128MB

Network Mode:

None

Multiple Dials:

No

System:

None

Resolution:

Other

Waterproof Grade:

Professional Waterproof

Languages:

Russian, Portuguese, Spanish, English, German, Arabic, Italian, Japanese, French

APP Download Available:

Yes
A smartwatch every modern man needs
Tactical Watch is a military inspired watch that isn't like any other smartwatch. It's a powerful tactical device that is ready to deploy at a moment's notice. The uses of this tactical watch go way beyond merely telling the time! It provides critical data on outdoor adventures and it's the perfect smartwatch for an active lifestyle.
Tactical Watch is guaranteed to resist any situation, whether it is water or dust. It is also extremely durable thanks to its 4th generation Gorilla Glass and carbon fiber construction. It can withstand shock, water damage, pressure, scratches, and emit fire.
It's stylish, easy-to-use and most importantly super durable and tough!
A Smartwatch Made for Rugged Men
It comes with a cell battery of 33 MONTHS duration! Ιn contrast to other watches that require continuous charging, Tactical Watch's battery lasts almost 3 years! Thanks to its integrated back-light, it can also display information in the darkest of places, which is without a doubt one of the most important features for a tactical watch.
Extreme sportsmen, high altitude athletes, pilots, hunters, outdoor enthusiasts, and anyone who lives on the edge and pushes the boundaries of life should have Tactical Watch on their wrist. This timepiece is made to stand up to extreme conditions, survive hideous abuse, and keep perfect time even when the power is out. When you're hiking, camping or training away from civilisation, Tactical Watch will be a reliable tool, one that's as useful as a good knife or a durable pair of boots.
The smartwatch that modern men need to become unstoppable.
We recommend ordering Tactical Watch while it is still available. Buying an affordable smartwatch no longer means losing all of the latest features and performance. Tactical Watch is here to provide you with a top-notch experience!
When we first researched Tactical Watch, we were sure it would cost a lot of hundreds of dollars. However, we are proud to let you know that you can now find it here now with a 50% discount for just $89.
What are the Benefits of using Tactical Watch?
Extreme Durability
Long-Lasting Battery Life
Solidness & Reliability
Innovative & Professional Design
Easy to Use
Watch Tactical Watch in Action:
This Virtually Indestructible Military Watch!
Why is everyone raving about wearing Tactical Watch?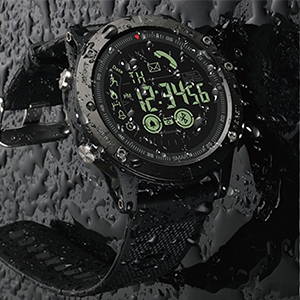 Suitable for iOS and Android
The Tactical Watch is compatible with both Apple and Android products. Receive notifications of incoming calls and services like Twitter, Facebook, WhatsApp and Skype on your Tactical Watch.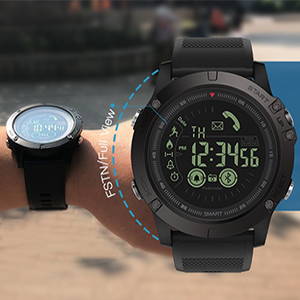 If you like extreme sports, lead an active lifestyle or work a physical job then this is an awesome tough alternative to the normal fragile (and very expensive) smartwatches.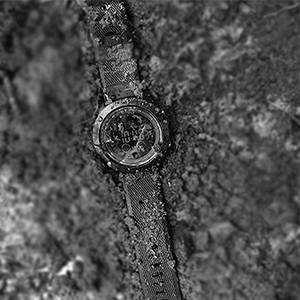 Unlike other smartwatches, Tactical Watch doesn't need to be charged on a daily basis. Ιt promises to be there for you when you need it the most, as its battery lasts up to 33 months.
---
Take advantage of the limited time offer!
Do not waste time!
Frequently Asked Questions
Does TactWatch come with a case?
Is this Watch eligible for use underwater?
Does it have a vibration alarm?
Yes, there is vibration alarm.
"My husband works in the oil field and has destroyed more than his fair share of watches. I bought this watch hoping its durability would not disappoint… So far it has met our expectations. It still looks brand new and he can wear it other places besides work. I highly recommend this watch for men who lead very active lifestyles."
Kate, London
"I bought this for my son in the army. It meets the standards for the uniform dress code so he can wear it all the time and it is rugged enough to handle his day to day use. It also survived a weeklong with lots of underwater diving. After that, I ordered mine too!"
Grace, United States
"I love this watch. I wear it to work every day. It's not too small and not too big. It's perfect! It gives me day, date, time, phone calls and tracking data. I tested the water resistant in my pool and shower and it works awesome! I highly recommend TactWatch!"
Bill, Greece