Secure and trusted checkout with:

We've all been there—tossing and turning in bed, struggling because our sweat has us practically glued to the sheets. It is awful. There are few things worse than trying to catch some shut-eye (or even just relax!) in an incredibly hot, sticky room. But brutal summer temps are unavoidable for most of us at some point in the year. So how to cool down a room without paying a fortune?
Don't suffer in the heat anymore. The ZenCooler portable cooling unit will cool the air around you anywhere for only a few cents a day.
ZenCooler cools and humidifies as well as purifies the air around you. This lightweight, compact personal cooling unit plugs into any standard electrical outlet or USB port providing fresh, cool, comforting air indoors as well as outdoors.
Watching TV, reading, working in the garage, sitting on the patio, in RV's, camping or boating - ZenCooler personal cooling unit easily goes anywhere with you.
The advantages of using ZenCooler:
Lightweight - Easy to carry unit
Power (W):

7w

Voltage (V):

5V

Air supply mode:

Other

Max. Timing Limit:

No Timing

Suspender Length:

No Suspender

Reverse Rotating Function:

No

Water-shortage Power-off Protection:

Yes

Wind Type:

Natural Wind, Sleep Wind, Prevailing Wind

Max. Power:

<20W

Type:

Cooling Only

Installation:

Mini

Material:

Plastic

Certification:

CE

Controlling Mode:

Mechanical Timer Control

Type:

Water Mist Fan

Size:

<1050MM

Fan Speed:

Third Gear

Power Source:

USB

Application:

<10㎡

Technology:

Other

Rotation Way:

Without Rotation

Remote Control Function:

No

Timing Function:

No Timing
Personal Space Air Humidifier
ZenCooler cools, humidifies and purifies the air around you for a more comfortable personal space
What is this ZenCooler?
ZenCooler is a powerful, lightweight and compact personal air conditioner that you can take anywhere. It creates a clean and natural atmosphere in your room. It humidifies and purifies the air without annoying noise.
The ZenCooler revolutionary technology cools the surrounding area naturally by evaporating pure water. Cool, moist air is distributed evenly and gently - more soothingly than air conditioning systems which uses chemicals and often create an unpleasant strain on the body.
ZenCooler is enhanced with the Advanced Proximity Motion Sensor that trims your electrical bill even more by automatically turning the unit off when not in use.
After 2 minutes of inactivity, the built-in motion sensor will turn your ZenCooler unit off, saving even more on the cost of operating this efficient cooling unit.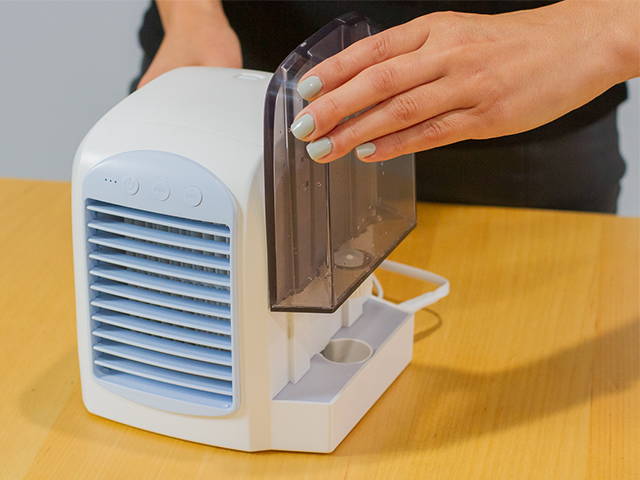 How Does It Work?
Using the principals of nature, this compact, go anywhere space cooling unit uses an evaporative filter which sucks in hot, dry, uncomfortable air transforming it into a cleaner, moister, cooler air.
It's easy to operate: just add water in the tank, plug it in, set the 3-speed built-in thermostat control, turn it on and make your personal space instantly more comfortable and refreshing.
There's no freon involved, making it an environmentally friendly, energy efficient cooling alternative for homes, offices, campers, tents, patios, terraces, balconies and more.
This personal cooling unit mimics nature, using the same principal and power of water evaporation without any harmful, damaging chemicals. Its energy efficiency is another plus for the environment. It also features a built-in-controllable and energy efficient LED night light.
It is the next generation in personal cooling. Buy ZenCooler to replace any ineffective portable fan that just moves around hot air and start enjoying a cool comfortable, relaxing space for work, hobbies, gaming, reading, watching TV, or even cooking.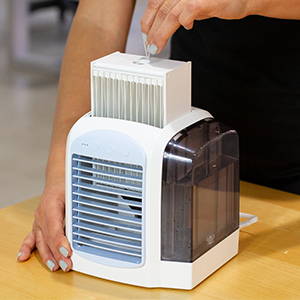 ZenCooler uses a technology that is environmentally friendly, free from chemicals, while running at maximum energy efficiency.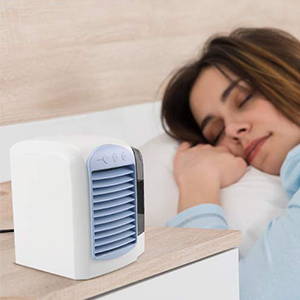 ZenCooler has a quiet, three-speed fan with adjustable air vents that is so silent you can even use it while sleeping.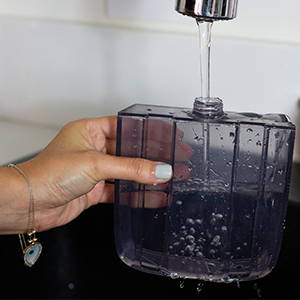 ZenCooler's built in water tank can last up to 8 hours without refill.
---
Take advantage of our unique offer and get ZenCooler Now!
Do not waste time!
---
Frequently Asked Questions
---
"Living in a hot climate, my AC bill was through the roof. Bought the ZenCooler and it has already dropped significantly this month."
Michael, USA
"Bought one for home and one for work and my personal space is ice cold during those hot and sticky days of summer in Greece!"
Helen, Greece
"It fits everywhere. In just 2 minutes you can enjoy the cold breeze. I didn't believe it at start but it lowered the whole room's temperature fast."
Alex, Los Angeles
---

Satisfaction Guarantee
We stand by our high-quality products and your satisfaction is guaranteed.

Secure Checkout
Pay with the world's most popular and secure payment methods.

Great Value
We offer competitive prices on all of our exclusive products.

Free Worldwide Delivery
We provide free worldwide shipping to over 200 countries & regions.